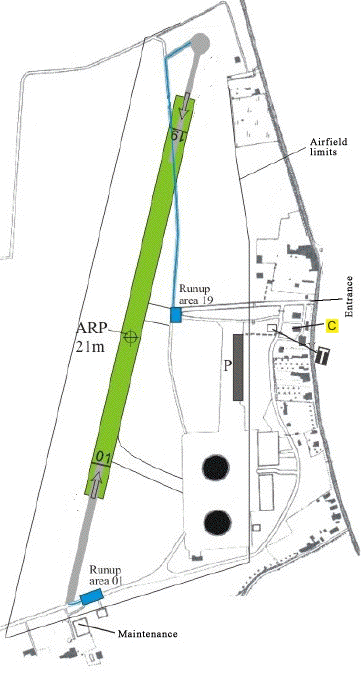 Update : 01-06-2019

ARP
N 50 56 58
E 004 23 36

Elevation 69ft/21m

Grimbergen Radio 119.505
Strictly PPR by telephone
++32 (0) 2 253 70 70
++32 (0) 475 70 93 81
Only available to aircraft with noise certificate, adhere strictly to instructions by telephone, prior to departure.
Approach at 900ft, only via LONDI, descend to 800ft in the circuit.
Avoid if possible Grimbergen, Beigem, Humbeek and other populated areas.
Only available for pilots with minimum PPL or student pilots which are previously familiarized with the airfield.
For noise abatement, within 3 NM around the airfield, fly with reduced power as much as safety permits.
Contact Grimbergen RADIO at least prior reaching LONDI.
Within AD traffic a listening watch shall be maintained at all times & position reports made.
Aircraft required to land, take-off and taxi on runways, stopways and taxiways only.
Only flights from and to other Schengen countries are allowed.
Fuel : 100LL and UL91 available, limited supply.